Offering Hygiene and Preventive Care

We offer our patients comprehensive preventive dental care with our complete dental exam, cleaning and follow up care.
Our office believes that an ounce of prevention is worth a pound of cure. We pride ourselves in providing the most thorough, comprehensive dental examination around. During your first visit for your New Patient Exam (as well as routinely as an existing patient) we will be checking the following areas to keep you healthy:
Head & Neck Examination (Checking the face and neck, lymph nodes for lumps and bumps as well as evaluating for TMJD)
Occlussal Analysis (Evaluating the way you bite and the interaction between your upper and lower teeth)
Evaluation of Existing Restorations & Conditions (Examination of current restorations (I.e. fillings, crowns, broken teeth, loose teeth, and visual decay)
Full mouth X-rays
Photographs of you and your smile
Video tour of your mouth
Periodontal Charting & Gum Evaluation
Our Hygiene Department
Your gums and the bone that supports your teeth are the foundation of your mouth. We offer the most comprehensive hygiene department around! Together, Dr. Pawl and our hygienist April have developed and implemented a wonderful program to get your gums healthy and to keep them that way! Knowledge is power and we are here to help guide you to a lifetime of healthy, happy teeth and gums!
Everyone's dental hygiene needs are different. We re-evaluate the health of our patient's gums at every visit so that we can maintain a personalized standard of care for you and your oral health. A staggering 2/3 of the population have some form of periodontal disease. More frightening, we've found that many patients who come to our office for care have never even had a periodontal screening. After you've been evaluated, a program will be recommended to best suit your periodontal needs.
Prophylaxis (Cleaning): A prophylaxis/prophy or commonly referred to as a general cleaning, is the type of cleaning most patients are familiar with. A prophy is a cleaning for someone who has for the most part, healthy gums. During a prophylaxis, plaque and tartar build-up and deposits are removed from the teeth. Depending on your particular needs, a recare interval will be recommended by our hygienist and Dr. Pawl. Usually a recare interval will be recommended at either 3, 4, or 6 months. To be as proactive as we can with your health, we will always re-evaluate your re-care interval at every visit!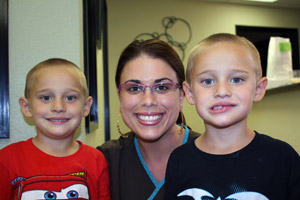 Scaling & Root Planing (Deep Cleaning): While a prophylaxis (mentioned above) removes plaque and tartar found above the gum line in overall healthy mouths, scaling and root planing focuses on unhealthy areas below the gums. These areas are called "periodontal pockets". A periodontal pocket is formed when debris is trapped between the root surface of a tooth and the gum tissue. When this occurs, the gum tissue becomes inflamed and pulls away from the tooth. If left untreated, these unhealthy areas can lead to bone loss and eventually, tooth loss. During scaling and root planing, the debris is removed from under the gums in order to help those areas begin to heal. Once scaling and root planing has be performed, a "perio maintenance recare" interval will be recommended for either 3 or 4 months. These recare visits are crucial to maintaining the success of your oral health and your investment made in the initial treatment.
In addition to the hygiene services described above, we offer two types laser therapy to further your periodontal success. To learn more please refer to the links below about Laser Bacterial Reduction/"LBR" & Laser Assisted Periodontal Therapy/"LAPT".
Sapphire Lesion Detection
Prevention and early detection are so important to helping keep your body healthy. The same is true when it comes to your mouth. ORAL CANCER IS ON THE RISE. According to the Oral Cancer Foundation, one person dies from oral cancer every hour. That is why our office has invested in the latest technology to help keep you healthy. The Sapphire Plus Lesion Detection system is a diagnostic scope which uses a high intensity light to illuminate your mouth. Normal tissue will appear green when viewed through the Sapphire scope. Any possible abnormalities will appear dark.

As you can see demonstrated in the photographs above, during the normal visual screening the tissue appears normal and no cause for concern. However, once illuminated with the Sapphire, there is a large dark area which indicates an abnormality.
During every visit to our office, we are always on the lookout for any abnormalities in the tissues of your mouth (I.e. on/under the tounge, cheeks, gums, throat, roof of the mouth). However, with the help of the Sapphire Lesion Detection system we can provide even more preventive care for you and your family.
Top 4 Reasons to add Sapphire Screenings to your routine care
Sapphire screening takes approximately five minutes and can be done during your normal dental visits.
The Sapphire screening is non-invasive and completely painless
Routine Sapphire screenings provide the best chance to detect any possibly unhealthy areas while they are in the early, curable stage and have the best chance for recovery.
The Sapphire screening is generally covered in full by dental insurances. Even without dental insurance, the fee for a Sapphire screeening is affordable.
Sapphire screenings are recommended:
Once per year for anyone over age 18 **
Twice per year for anyone over age 40 **
**More frequent Sapphire screenings are recommended due to certain risk factors such as smoking/tobacco use, heavy alcohol use, or a history of oral cancer.
Featured Patient
Meet Bob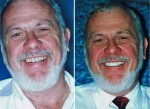 It's hard to believe that a grown man would be afraid of a dentist, however, that was the case prior to my meeting Dr. Pawl. The net result was that through the years of neglect, my mouth was in terrible shape. I met him socially and later when my teeth could no longer be ignored I asked him if we could meet for lunch. There I told him of my fears and concerns. He told me he understood and assured me he would do everything possible to make my visits to his office as stress free as possible. It took several visits and a few months, but his good work is apparent in my smile. I am glad not only to call Dr. Pawl my dentist, but also my friend. He has an excellent staff that is both professional and caring. Give him a call and see what I mean.
– Bob
Featured
Product
Philips Sonicare FlexCare
Powered by sonic technology, Sonicare cleans beyond the bristles to remove plaque deep between the teeth and along the gumline. Sonicare gives you naturally whiter teeth and healthier gums. It's the number one recommended brand of dental professionals. Ask us today for a coupon to save up to $15 on your new FlexCare.