Offering Cosmetic Dentistry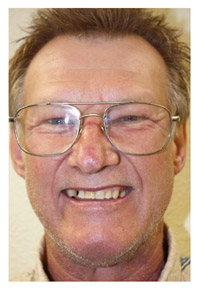 Your smile is your first impression, an important way that you introduce yourself to others. Having a smile that you feel confident about is important! But sometimes, through tooth loss, failed dental treatments, disease or decay we lose our teeth and therefore our confident smile.
We can help you determine how to get your smile back. Dr. Pawl is a smile makeover expert and will restore your smile and your confidence. Throughout our website, you will see some of the smiles that Dr. Pawl has created and get feedback on our patient's experiences in our office.
The Process of Making Over Your Smile
Your smile makeover may include a variety of procedures, from straightening and repairing your teeth, replacing missing teeth, re-contouring your gums and whitening discolored teeth. The goal is to restore your confidence in your smile, giving you dramatic results.
Veneers
Veneers are thin shells of porcelain that are bonded to the front of your teeth to make a cosmetic improvement in your teeth's appearance. Veneers are used to correct teeth that are stained, worn, chipped, discolored or as an alternative to some orthodontic treatment.
Veneers are easy to apply and have long lasting benefits. They are realistic looking and resist staining. We can help you determine if veneers are a good option for you.
Lightening
Stains on or beneath the tooth enamel can be frustrating and affect the brightness of your smile. Stains can be caused by aging, tooth defects, smoking or diet.
We offer a variety of whitening options for you – both in-office and take-home. We can help you to determine the best course of action to suit your individual needs. Please call us today to ask us more about the options available for you!
Our shade checker by Vita Easy Shade allows us to most accurately check tooth color so our procedures can exactly match your existing teeth. Using the Vita Easy Shade makes shade checking significantly more accurate than matching with the naked eye.
Featured Patient
Meet Marla
Dr. Pawl is the most FANTASTIC dentist I've seen! I came to him through a friend. That was in 2005. Then in the beginning of 2006 he made my teeth straight and beautiful. I now smile with confidence and ease! What more can I say but Dr. Pawl and his extended family really take care of you.
Featured
Technology
Accurate Tooth Shade Checking
Using the VITA Easyshade we can match the color of your natural teeth with accuracy so that any restorations or procedures you have done will exactly match your other teeth. This quick and precise measurement allows us to provide a much more accurate match, making your dental work look even better.